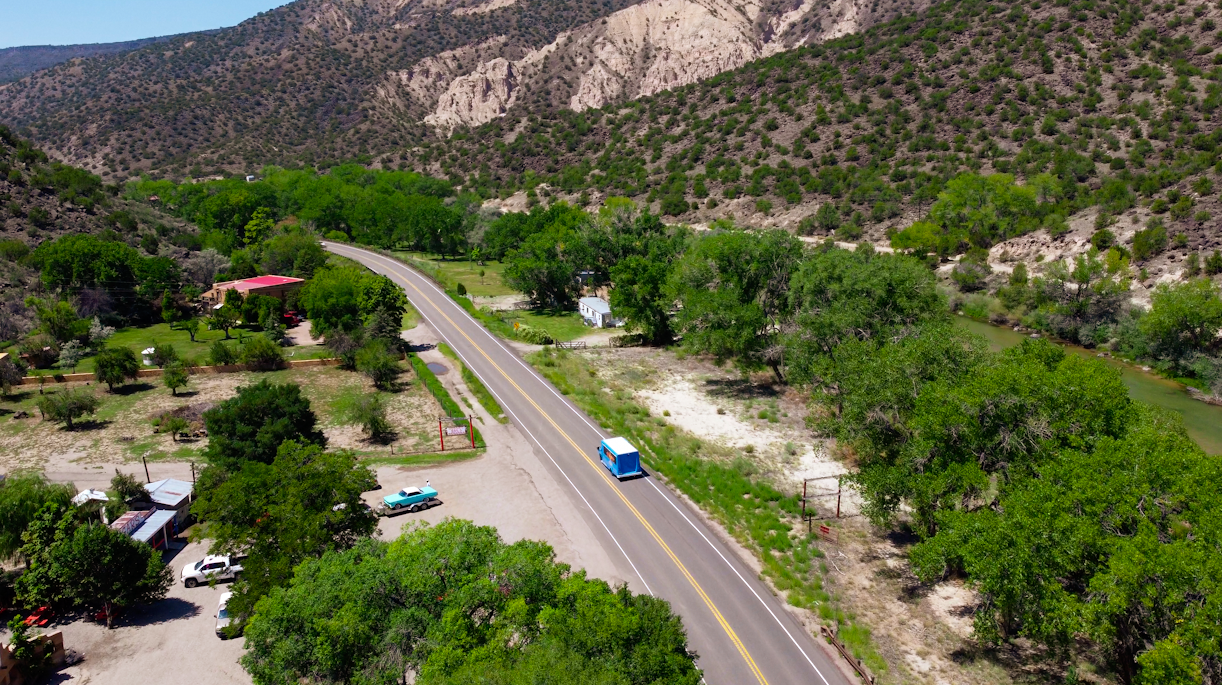 NCRTD TRANSPARENCY/ACCOUNTABILITY
At the Noth Central Regional Transit District, we have made a commitment to clear and open government. Therefore, we are pleased to welcome you to the NCRTD's Financial Transparency Platform. This is an interactive reporting tool that allows the public to explore the District's financial data online in various, easy-to-use graphical formats selected by the user.
With this tool, the NCRTD is providing historical financial data from 2010 to the current year.  Each year following budget approval, a new year of data will be added giving the public a rolling multi-year snapshot of revenue and expenditure trends. In addition, year-to-date monthly data will also be made regularly available.
Sometimes, there's nothing quite like being able to manipulate the data by yourself by viewing charts and graphs or downloading the information into an excel spreadsheet.  NCRTD has engaged Open Gov to assist with providing the public with just that opportunity.  Users can view financial data based on the current budget or up to the current month.  The users can manipulate the data and drill down to finite details or scale up to the big picture.  Users can also download the data as an excel spreadsheet.
NCRTD is one of the first four entities in New Mexico to use OpenGov to access, share, and analyze its financial data. To access NCRTD's interactive portal, visit North Central Regional Transit District, NM's Financial Reporting Platform.
THIS WEB-BASED FINANCIAL TRANSPARENCY TOOL PROVIDES ANNUAL AND CURRENT YEAR REPORTING OF THE NORTH CENTRAL REGIONAL TRANSIT DISTRICT'S REVENUES AND EXPENSES. THIS SITE IS DESIGNED TO HELP YOU UNDERSTAND HOW THE NORTH CENTRAL REGIONAL TRANSIT DISTRICT SPENDS AND RECEIVES MONEY. START EXPLORING AND LEARN ABOUT YOUR GOVERNMENT.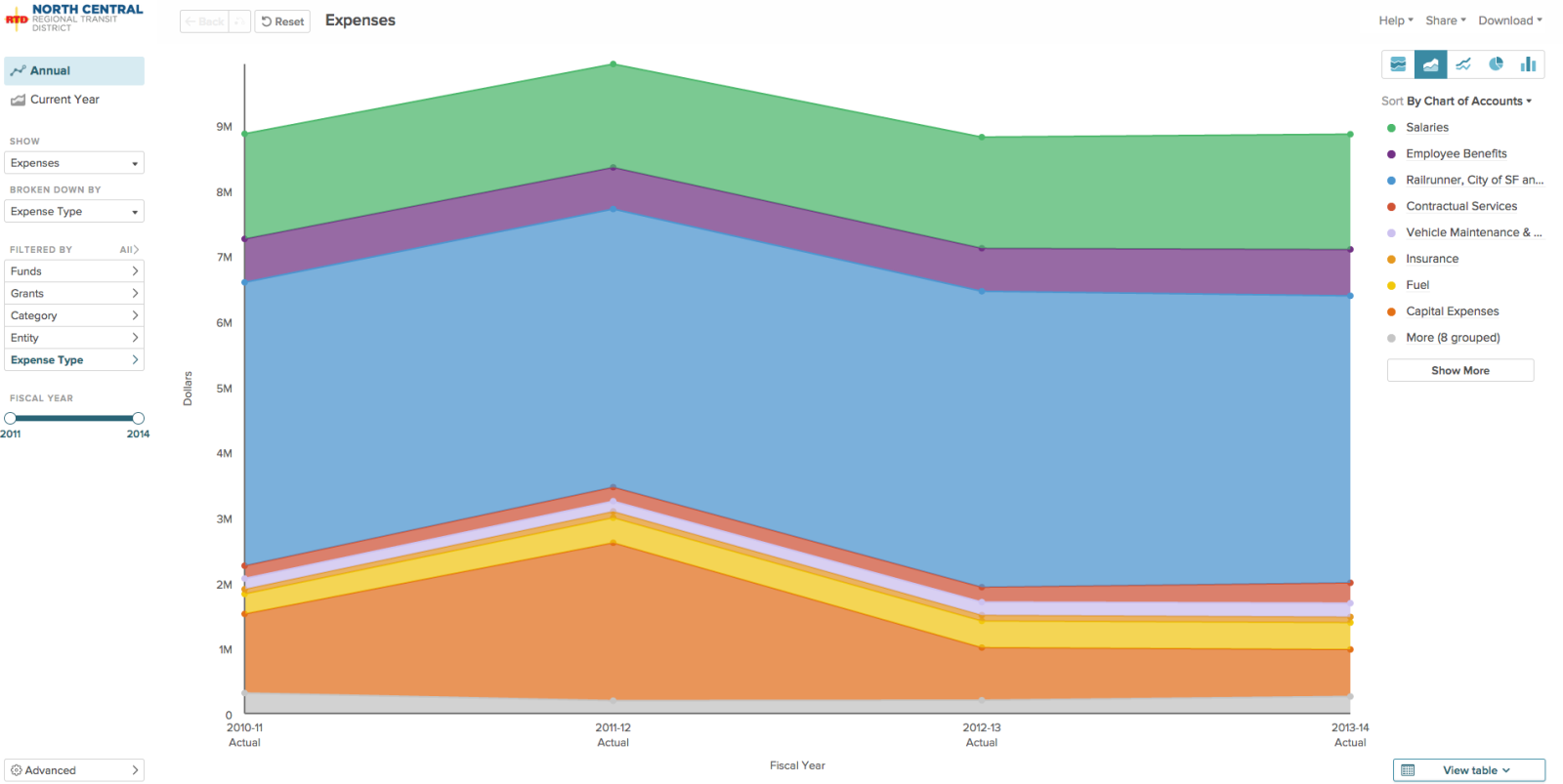 Tips on How to Use the Site
OpenGov allows you to explore budget and historical finances in a simple graphical user interface. 
You'll notice the title of the chart or graph you are viewing in the top left corner.
Click on

 

Saved

 

on the left-hand side to view a list of common or favorite views on each report
Select

 

Filter

 

to display key menus 
You can use the Show drop-down to select the data that is of most interest to you.
Use the Broken Down By drop-down to specify the category you would like the data organized by in your chart or graph.
Select the Filtered By option to view the data filters. These filters will allow you select exactly which data you want to include, or exclude, from your graph or chart. 
Use the Search function within each filter to find exactly what you are looking for.
There are five different types of visual representations of the data:
A stacked percentage graph to see percentage changes over time
A stacked line graph to visualize overall trends over time.
A line graph overlaying each trend over time.
A pie chart to view percentage breakdowns by year.
A bar chart comparing trends and percentage breakdowns over time.
Below any chart or graph, you can view a Table detailing the financial information in the visualization above.
Use the

 

Advanced

 

setting n the bottom left to display dollar amounts as

 

per capita
Use the Help drop-down in the top right corner to:
View a short How-To Guide with tips on navigating the platform.
Recall the Welcome Screen.
View a short Budget 101 primer with basic information on multi-fund accounting.
Contact the administrators of the account.
Use the Share drop-down in the top right corner to:
Share your customized graph or chart through social media.
Send a link to your customized graph or chart through email.
Use the Download drop-down in the top right corner to:
Download an image of the graph or table as a .png file.
Download a spreadsheet as a .csv file.
Background on OpenGov
The OpenGov platform provides instant online access to the budget, and interactively displays current and historic revenue and expenses down to the fund, department, object and checkbook level.
Over 270 governments across 36 states leverage the rapidly expanding OpenGov network. In total, these governments represent more than 34 million citizens and approximately $88 billion in annual spending.
Governments use OpenGov internally to create custom reports, help operations manage to budget, keep administrators and legislators informed, and help with important workflows from the budgeting process to internal audits. Externally, the platform is used to publish interactive budgets, share this information with the community, and even achieve revenue goals by disseminating important financial data around tax or bond measures.
Maintaining budget data on OpenGov's platform enables each government to provide citizens, elected officials and internal staff the ability to:
View historical revenue and expenditure trends over time. 
Explore multiple views of budget data, including by fund, department, expense or revenue type, or activity.
Answer frequently asked Saved View questions.
Track year-to-date revenue and expenses and view how departments operate to budget.