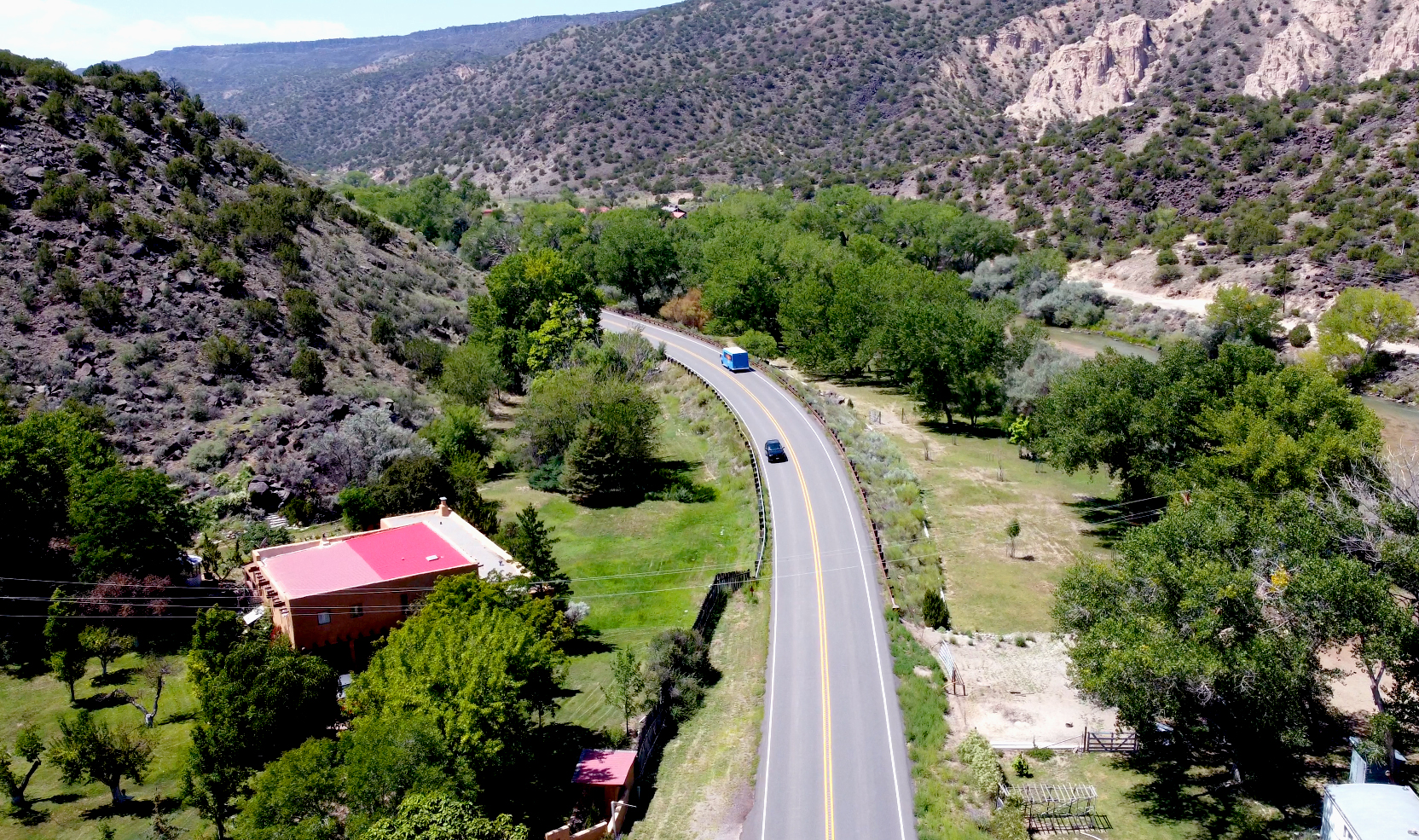 MISSION STATEMENT
The mission of the North Central Regional Transit District is to improve communities' quality of life by providing a resilient, equitable, and effective public transportation system.
VISION STATEMENT
To be a mobility leader connecting people, communities, and the region through seamless, integrated, and innovative mobility options for the betterment of our region.  
ABOUT US
The North Central Regional Transit District began service in 2007. It provides free and premium fare-based bus transit connecting communities and pueblos throughout the counties of north central New Mexico including Los Alamos, Rio Arriba, Santa Fe and Taos. Further expanding its reach, the signature Blue Buses provide riders with connections to New Mexico Rail Runner, Santa Fe Trails, NMDOT Park and Ride, Los Alamos Atomic City Transit, Po' Pay Messenger Service and Red River Miner's Transit. All of its buses are ADA accessible and equipped with bicycle racks. The Blue Bus™ provides service on 28 Fixed and Flex routes (26 of which are fare-free), two Demand Response routes and one Dial-a-Ride service.
STATISTICS
Vehicle Miles, Annual
1.54 million miles
Fleet
Buses: 75 ranging from 36-passenger to 3-passenger vehicles Contingency Fleet: 27%
Administration: 12 Operations
64 Including 50 transit operators
Facilities
Bus Stops: 449 Bus Passenger Shelters: 48
Total Service Area:
10,079 square miles
Address:
1327 N. Riverside Drive
Española, NM 87532
Telephone:
Main number: 505-629-4725
Fax: 505-747-6647
SUSTAINABILITY
Vision and Mission Statement To be an environmentally conscious, sustainable partner, enhancing the quality of life of the north central New Mexico communities and beyond.
FACT: NCRTD passengers aid in the reduction of approximately 2,291 tons of carbon emissions or 4.6 million lbs.annually
NCRTD believes in the benefits of Excercise. The bottom line is that exercise and physical activity are a great way to feel better,
gain health benefits and have fun. NCRTD tries to make sure all employees know that we are on their team and want to help them feel good!
We currently offer health and wellness reimbursements for $15 dollars a month!
Learn More
About Memberships to the Health Plex at Presbyterian Hospital
Los Alamos County:
Los Alamos
Taos County:
Town of Taos, Questa, Costilla, Red River, Peñasco, UNM Taos-Klauer, La Lama, Cerro, Arroyo Hondo, Las Trampas, Chamisal, Rio Lucio, Rodarte, Vadito, Talpa, Pilar, Ranchos de Taos, Village of Taos Ski Valley, Arroyo Seco, Valdez, Tres Piedras
 Rio Arriba County:
Española, El Rito, Ojo Caliente, Chama, Tierra Amarilla, Cebolla, Gallina, Canjilon, Abiquiu, Chimayó, Cordova, Trucha,s Ojo Sarco, Dixon, Embudo, Santa Clara, El Duende, La Puebla, Hernandez, Ghost Ranch, Medanales, Velarde, Dulce
Pueblos and Nation:
Ohkay Owingeh, San Ildefonso, Tesuque, Pojoaque, Santa Clara, Nambé, Picuris, Taos and Jicarilla Apache Nation
Santa Fe County:
Santa Fe, Española, Eldorado, Edgewood, Lone Butte, Los Cerrillos, Moriarty, Chimayo, La Puebla, Stanley, Tesuque Village, Galisteo, Madrid, The facilities of Oñate Military Complex (Homeland Security, National Guard, Troop Command) NM Corrections Department, SF County Adult Detention Center, Ski Santa Fe, La Cienega, La Cieneguilla
San Juan County:
Farmington, Bloomfield
Milestones
For the seventh consecutive year, the NCRTD Finance department was honored by the Government Finance Officers Association (GFOA) for its Annual Comprehensive Financial Report (ACFR) and the seventh consecutive year for its Distinguished Budget Presentation. The year also marked the fourth time the District was honored for its Popular Annual Financial Report (PAFR). These are three of the highest acknowledgement in government accounting.
The North Central Regional Transit District (NCRTD) was twice honored by the New Mexico Department of Transportation (NMDOT) in 2012 and 2009 with the award for the Job Access and Reverse Commute (JARC) Transportation System of the Year
The North Central Regional Transit District reported a record 294,313 trips in Fiscal Year 2019, 1.7 percent more than the previous year.
In October 2014 and again in 2018, the NCRTD received the Federal Transit Administration (FTA) Administrator's Award for Outstanding Public Service in Rural Public Transportation.
In 2003, the Regional Transit District Act, NMSA 1978, Chapter 73, Article 25, was enacted to allow the formation of the Regional Transit Districts to provide, among other things, regional networks of safe and efficient public transit systems.
The first meeting of the Organizing Committee (then called the Working Group) was on November 5, 2003. That meeting established the major guiding principles of the NCRTD.
The successful creation of New Mexico's first regional transit district was celebrated on November 12, 2004, with a train ride on the Santa Fe Southern Railway line between Santa Fe and Lamy.