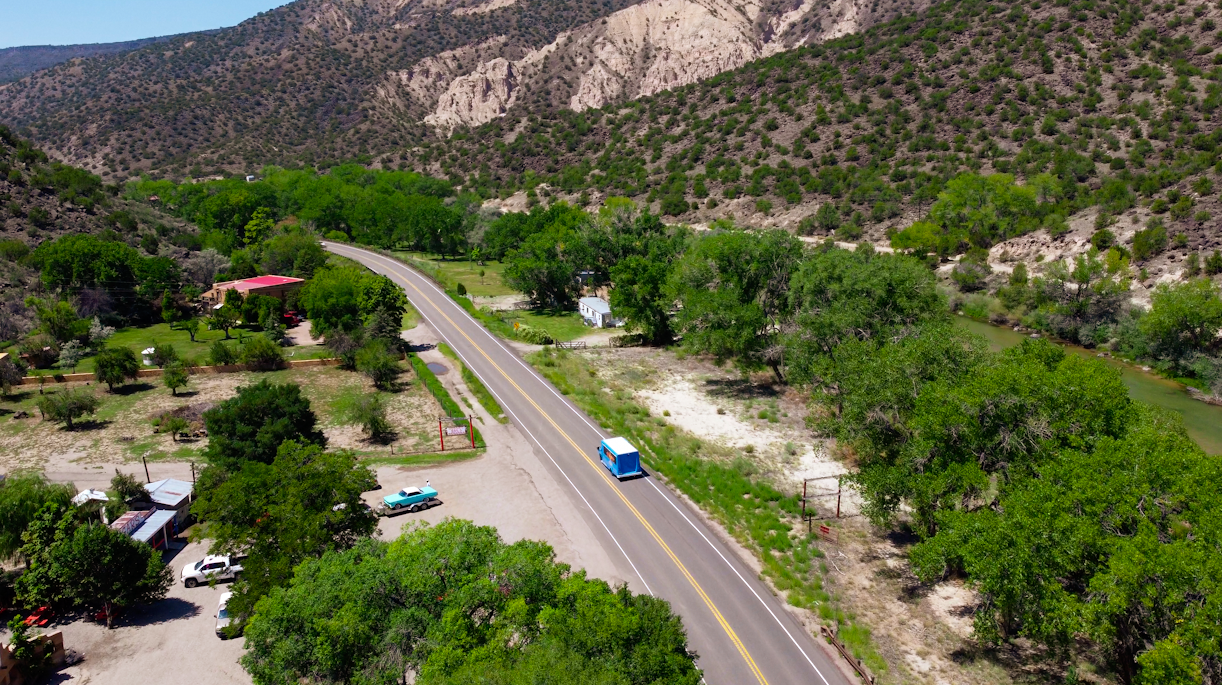 The Blue Bus serves 10,079 square miles of North Central New Mexico, USA, with the longest connecting one-way service distance totaling 275+ miles from one end to the other. Serving the counties of Los Alamos, Taos, Rio Arriba, Santa Fe and San Juan County, the Pueblos of Ohkay Owingeh, San Ildefonso, Tesuque, Pojoaque, Santa Clara, Nambé, Picuris, Taos and Jicarilla Apache Nation.
How Do I Ride the Blue Bus?
Get to the bus stop
Arrive at the bus stop early, all our stops are marked with a sign and stop number to help you figure out your location. Stand near the bus stop sign or shelter so the bus driver can see you. When the bus arrives, read the bus number displayed above the windshield to ensure you board the correct bus.
If you're not sure if the bus is going where you need to go, you can always ask the driver.
Board the Blue Bus
Wait for the bus to come to a complete stop. Let others exit before entering the bus. Take a seat and enjoy the ride.
Exiting the Bus
To exit the bus, notify the driver you want to exit by pulling the stop request cord that runs along the upper part of the bus windows or push the stop request button. Wait until the bus comes to a complete stop before standing up. Once the doors open, make sure you have all your belongings and exit the bus.
For trip planning, download the MyStop app to track the bus, get service updates, and more. Downloading this in advance will help you have the tools you need. For those who may lose cell service, consider taking a photo or screenshot of the timetable with your mobile phone in advance.
For additional questions, give us a call at 866-206-0754 ext. 1.
Enhancing your Ride
For a Safe and Pleasant Ride Please
Remain seated
Wear appropriate clothing (shirt, pants/shorts, shoes) 
Permitted on the Bus
Service animals
Non-alcoholic beverages in a sealed container
While we love pets, non-service animals must be in a pet carrier. Non-alcoholic beverages and food must be in a sealed container.
NOT Permitted on the Bus
No smoking/ vaping
No eating
No loud music
No alcoholic beverages
No illegal drugs
No offensive language
No weapons
No talking loudly on your phone 
For Everyone's Safety and Comfort
Vehicles are equipped with video and audio surveillance.
Drivers will assist passengers with visual or mental impairments.
Children under the age of 10 must be accompanied by an adult.
There are 3 position bike racks for those first come, first served.
Use trash receptacles. You can help keep our vehicles clean.
No feet on your seat or on the back of the seat in front of you.