RIDER ALERT: 255 MOUNTAIN TRAIL: AS A RESULT OF THE ONGOING PANDEMIC RESULTING IN LIMITED SEATING (5 OR LESS) ON THE BUS, THE 255 ROUTE TO SKI SANTA FE IS CURRENTLY OPERATING ON A RESERVATION-ONLY SYSTEM. DEPARTURE TIMES MODIFIED JAN 9 TO SUPPORT SKI SF STAGGERED TIMES (SOUTH CAPITOL DEPART 7:30 AND 8:15, SKI SF DEPART 3:30 AND 4:15).​ FACE COVERINGS ARE REQUIRED TO RIDE AND MUST REMAIN ON. UNTIL FURTHER NOTICE, THE SERVICE IS FARE-FREE TO RIDE, AS A RESULT NO SKI SANTA FE TOKEN IS PROVIDED. PLEASE CALL TOLL-FREE 866-206-0754 EXT. 2 TO MAKE A RESERVATION.
RIDER NOTICE: NCRTD TO RESUME LIMITED SERVICE NOVEMBER 30
North Central Regional Transit District (NCRTD) RTD Blue Bus routes will resume on Monday, November 30 by providing essential service on a limited basis.
All routes will operate on either a demand request or reservation basis with the exception of the 290 Edgewood route and the 170 Jicarilla route, though 170 will continue to serve paratransit customers in the Chama/Dulce area. Additionally, the 190 Chama route will provide demand service within Chama and Tierra Amarilla providing essential local trips within those communities.
Demand service allows riders to call and schedule a trip being picked up and dropped-off at established RTD bus stops. Riders are asked to limit trips to only those that are essential. Face coverings are required to ride and must remain on for the duration of the trip. Seating on vehicles are limited due to social distancing and groups of five or less.
For the latest information on routes and to schedule service riders are asked to call 505-629-4725 ext. 2, or toll-free 866-206-0754 ext. 2.
Service on District routes were suspended Monday, November 16 after three employees based in the RTD Taos facility had tested positive for coronavirus. Some of these positive employees had interacted with employees from the Española facility. To guarantee proper safety measures were taken, while taking extra precautions to ensure the health and safety of all passengers and employees, services were placed on hold. All employees in Taos, as well as Santa Fe, Española and Chama were tested and quarantined resulting in no additional positive results.
Alerts will be issued as routes resume full service and updates, as they occur, can be found at the District website RidetheBlueBus.com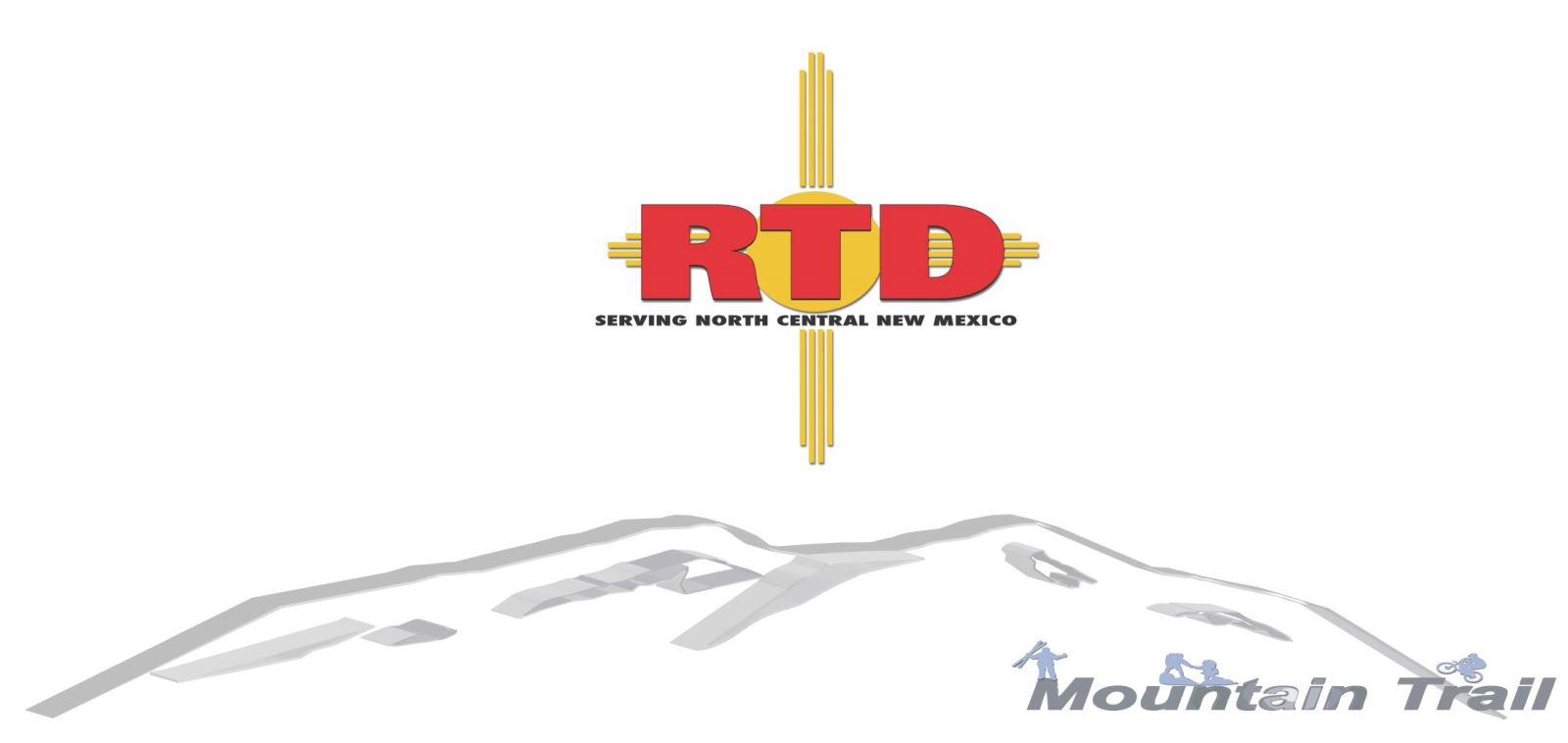 Route Map and Schedule

                     
The Winter Schedule is in effect Thanksgiving Day (or upon open of Ski Santa Fe) through the close of Ski Santa Fe in early April. ​Outside of that, the bus runs its Non-Winter schedule.  
RIDER ALERT – PLEASE BE ADVISED THAT WINTER STORMS, ROAD CLOSURES AND PARKING LOT CONTROLS AT SKI SANTA FE ARE BEYOND OUR CONTROL AND CAN IMPACT SERVICE TIMES    
We have been advised that people have been parking at Ten Thousand Waves and getting on the bus. That lot is private property and for the exclusive use of its patrons and customers as space is limited. Cars left there WILL be subject to fine and towing. There are two park and ride locations: The South Capitol Rail Runner Station off Cordova Rd. and at Fort Marcy Park – the upper lot on Murales Rd between Old Taos Highway and Bishops Lodge Rd.
List of Bus Stops – Eastbound (Up Mountain) and Westbound (Down Mountain)
The RTD Mountain Trail route provides service from the South Capitol Rail Runner Station, through Downtown Santa Fe to Fort Marcy Park and then up Hyde Park Rd. to recreational areas and businesses along NM 475 into the Santa Fe National Forest and concluding at Ski Santa Fe.
Free park and ride options for local residents will be available at the South Capitol station and on the north side of Fort Marcy Park in two parking lots north and south of the bus stop located on Murales Rd. between Old Taos Highway and Bishop's Lodge Rd (by the fire station and above the ball field).
During non-winter season, bicycles are allowed on the Mountain Trail route bus and our bike racks will be available on a first come, first served basis.
The Winter service will begin on Thanksgiving Day (or upon the opening of the Ski Santa Fe season) and runs through the close of Ski Santa Fe in early April. During that time, three roundtrips will be provided weekdays and seven roundtrips will be provided on weekends. The service will operate on a weekend schedule (seven roundtrips per day) each day of the week between Christmas and New Year. (PLEASE NOTE THAT THERE WILL BE ONE CHANGE BEGINNING THE WINTER 2019/2020. AS OF DAYLIGHT SAVINGS TIME IN EARLY MARCH, THE LAST DEPARTURE FROM SKI SANTA FE MONDAY THROUGH FRIDAY AND THE LAST TWO DEPARTURES ON SATURDAY AND SUNDAY WILL DEPART 30 MINUTES LATER TO ACCOMODATE THE CHANGE IN LIFT OPERATING HOURS AT SKI SANTA FE.)
The Non-Winter service operates throughout the year from the close of the Ski Santa Fe ski season, until its open around Thanksgiving. During the non-winter season, service will be provided on two roundtrips on weekdays and three roundtrips weekends. The 255 Mountain Trail provides service 365 days per year.
During the non-winter schedule, the cost to ride the Mountain Trail will be $5.00 (EXACT CHANGE REQUIRED) eastbound (uphill) and fare-free westbound (or downhill). During the winter schedule, the fare will be $5.00 per trip (EXACT CHANGE REQUIRED), eastbound or westbound.  Also, during the winter schedule, a token will be provided upon boarding the eastbound bus. Ski Santa Fe will honor that token with a $5.00 discount when it's presented to purchase lift tickets, at the ski school, gift shop, and food services, with the exception of Totemoff's bar.  A transfer token will also be provided to riders disembarking at Ten Thousand Waves allowing them to get back on the bus at no additional cost upon return of the token.
Passengers age 65 and older, passengers with Medicare cards and individuals with disabilities are eligible to ride for a reduced fare of 50% of the standard fare. Individuals with disabilities may self-disclose disability or show any transit agency issued ADA eligibility ID Card for reduced fare.
Veterans are allowed to ride free. Upon boarding any of the NCRTD fare-based routes, veterans must present a veterans ID photo badge or valid New Mexico driver's license with a veteran's designation and their fare will be waived.